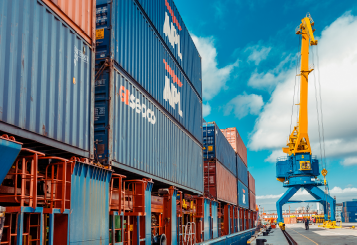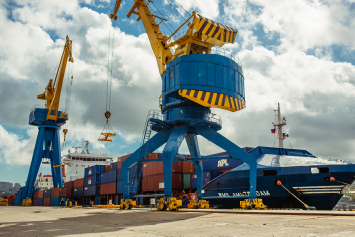 Dalzavod-Terminal CJSC has all the necessary equipment to implement loading and discharge operations:
Two «Kirovets» gauntry cranes of 20 and 80 tons lifting capacity
«KATO» automatic crane of 70 tons lifting capacity
Two «TADANO» automatic cranes of 25 tons lifting capacity
«KALMAR» reach stacker of 45 tons lifting capacity
Park of ten automated lift trucks of 1.5 to 13 tons lifting capacity
Each gauntry crane is equipped with two spreaders of 40 tons lifting capacity.
By the end of 2013 the terminal plans to mantle a new «ZUBR» gauntry crane of 60 tons lifting capacity, which will enable to handle vessels at higher rate. Along with this the terminal plans to purchase two «KALMAR» tow trucks and two trailer units of extra lifting capacity for them in order to maintain prompt carriages within the port. The diesel generator of 600 kW capacity enables to continue cargo operations even in case of breakdowns in power supply.
Dalzavod-Terminal CJSC has its own railways that can accommodate 16 rail cars. A special tip enables to load cargo to vehicles and special machinery without loading equipment.
Besides the mentioned points, Dalzavod-Terminal CJSC owns 18 tow trucks manufactured in Europe; this enables to deliver cargo from the terminal in the shortest possible time.